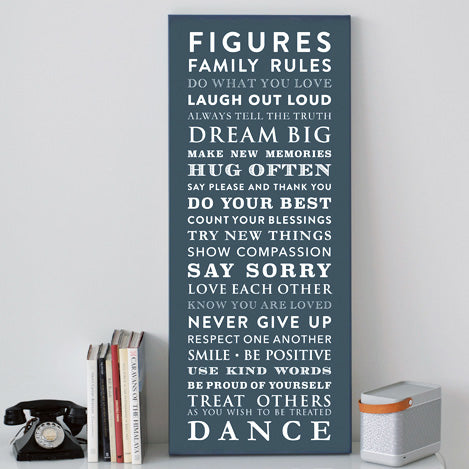 Personalised Family Rules Canvas
Fun, whimsical or straight to the point – you get to choose the rules with our highly customisable 'Rules' artwork. Available in a large selection of sizes, styles, colours and materials you'll be able to create a one-of-a-kind piece to grace the heart of your home.
What we need from you:
Provide us with your own personal list of family rules and we will design a unique piece of art for you. 
Dimensions:
Small: 65 x 30cm (approx. 14 lines / rules)
Medium: 90 x 40cm (approx. 14-16 lines / rules)
Large: 120 x 50cm (approx. 16-18 lines / rules)
Extra Large: 150 x 60cm (approx. 18-20 lines / rules) 
All of our artworks are fully bespoke and so we can also create a design to your specified dimensions. Please contact us for a quotation.

Made from:
The artwork is digitally printed onto premium quality canvas and then stretched around a hardwood frame and is ready to hang. Guaranteed to last for over 75 years without fading.
Dispatch time:
To ensure you are delighted with your personalised artwork, we will email you a 'Design Proof' for approval before we create the finished artwork. We understand it is easy to mis-spell a word, or get a date or place wrong first time, and the 'Design Proof' stage is the opportunity to correct those mistakes. We want you to be really happy with your finished product and will normally be able to make reasonable corrections. As each artwork is individually designed, if the nature of changes is significant, it may result in an increase in costs.
Once the artwork has been approved, it can take up to 5 days for the artwork to be dispatched.